2013 and a new year has begun! Has it started with the gusto & force that was predicted some 12 months ago well the simple answer is no! Many predicted that January would be the tell tale month for many online companies year ahead.
With unemployment numbers stable but in no means drastically improving multi-nationals and SMEs alike are becoming ever more cautious when it comes to recruitment. Using current staff members to fill posts and take on tasks previously filled with more junior members, companies are looking to expand but slowly and utilising new media to seek out the cream of the crop in 2013. With increased numbers of applicants for every role more targeted approaches are being implemented to fill empty positions.
Over the past 4 weeks, Click Vision Media have been working alongside many UK Recruitment Agencies in an effort to compile some useful data to use to their benefit in the months ahead. In a comparison chart to the same period of 2012 we noticed some interesting stats.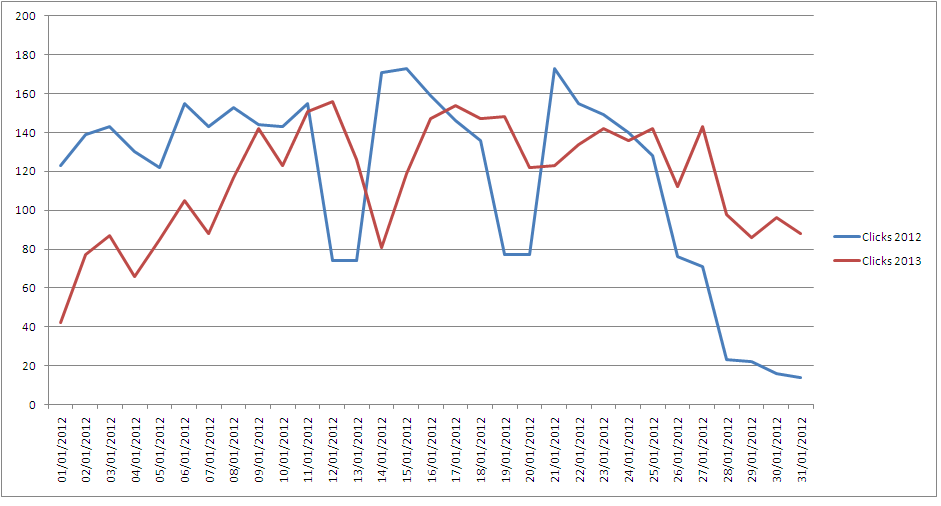 With the data above relating to a set of niche terms in the recruitment industry we can see slight differences in trends in 2013 which has been very similar across many other vertical markets. The data above shows us that 2013 saw a much slower start to the year with not only clicks/visitors down but also search traffic as a whole was also considerably lower than the same period of 2012.
However the control group above shows a much more steady line of traffic once the numbers had aligned around the second week of January. Meaning that with numbers in total throughout the month finishing very similarly we have noted users are not in such a panic this year to get that new role sorted ASAP and as early as possible.
Why? well when presented with the stats our clients have told us that quality of traffic is unaffected but noted applicants are making extra effort to update CV's or tailor them to specific applications, highlight transferable skills and are in general becoming much more focused.
With this in mind a questionnaire was presented to candidates and the most notable comment was that "I will probably be in the pile with 100 other applicants so i want my CV to stand out" or something similar. Applicants have had to become more savvy when applying and many are seeking out company history to very granular levels to show they are keen. They have also been making conscious efforts to engage in other ways using social media and networking sites. Following companies on LinkedIn, Following them on Twitter or even liking their FaceBook page.
With this in mind companies too have had to fully engage their social & network pages to help seek out candidates. LinkedIn recruitment advertising has taken off over the last few months and companies are seeing much more qualified CV's landing on their desks. Click Vision Media have seen some fantastic results through Facebook PPC for recruitment companies and now insist that these 2 arenas be part of the mix for our clients seeking out quality candidates.
Should Recruitment agencies panic about the new trends? The simple answer is no! Candidates are still very much searching they are just taking their time about it.
February has not slowed in the trend so far and search patterns through the first few days of Feb are much higher than that of 2012 but still constant and without the previous surges at the beginning of the month.
Contact us for further details on the report….